Leave alone spotty wi-fi, buffet food, and charming lighting. Nowadays, airport lounges have been revamped to a whole new level. They are fitted with futuristic designs and interior décor. Also, they have luxurious features like detox bars, yoga studios, spa treatment, celebrity chefs, and dining rooms.
Others even have a full bed or day bed if you need a brief shut-eye. And for those who need to freshen up, you'll find fully equipped bathrooms to leverage. Of course, to appreciate all these top-of-the-class services, you'll have to pay extra. But oftentimes, this is a privilege for first-class or business class travelers.
However, there're platinum credit cards that can give you access. Also, the corporate booking tool Figame.com (www.corporatefigame.com) gives access to the vast majority of airports business lounges all over the world. With that said, here are the 10 best airport business lounges in Europe and how to go there. However, if you want more options, get in touch with www.app.figame.com. Let's begin:
Turkish Airlines Lounge, Istanbul
This happens to be the best airport business lounge in Istanbul airport. It has many sitting places including private cabins if you want privacy to work or nap. For those interested in amusement, there's an entertainment venue with televisions on the walls. Also, there's a business zone with iMacs and a playground for those on business trips with kids. Other features include dining areas and a shower suite for refreshing up.
How to go there
To access the Turkish Airlines Lounger, you'll need to be a business class traveler or in the first-class. Besides Turkish Airlines, Start Alliance Flights also have access to this lounging area.
2.Lufthansa First Class Business Lounge, Frankfurt
For starters, Lufthansa Lounge is an entire terminal tuned to provide a luxurious first-class experience. It saves you from the hassle of accessing the lounges through the main airport. For a complete experience, this lounge features a bar area, smoking lounge, and dining area. Also, it has shower suites to help you freshen up before attending your meetings.
How to go there
As a first-class traveler, you've got exclusive access to this lounge. Also, first-class travelers from Lufthansa, Swiss, Austrian, or Hon Circle traveler can access it.
3. Air France La Premiere Business/ First class Lounge
Do you want access to the most luxurious business lounge not only in Europe but in the entire world? Well, you should stop by La Premiere Lounge. The strategic locations provide you with stunning views of the tarmac. Also, you get to try out various cuisines from a famous chef, Alain Ducasse. Further, you'll also get custom experience such as a personal assistant from Air France. You'll enjoy priority access in the airport as well as the company in the baggage picking area.
How to go there
If you are from the first-class cabin in Air France, you have direct access. However, there're exceptions, especially if you're off a Delta flight or Air France with no first-class cabin.
4. Tallinn Airport World-Class Business Lounge
As per Priority Pass reports, Tallinn Airport Lounge ranks amongst the best business lounges across Europe and globally. It has remarkable views of the tarmac from its terrace. And their service is one of the best.
How to go there
If you're a business class traveler, then you have direct access to this lounger. Also includes travelers from Aeroflot, Flybe, Air Baltic, UTAir, Rossiya Airlines, SAS, Lufthansa, and Estonia Air.
5. Finnair Business Lounge, Schengen, Finland
Helsinki Airport has a title as one of the top Airports found in Europe. Known for being efficient, clean, and calm, it's the best place to board a flight from. Particularly, Finnair Business Lounge has up its game with exceptional services. It has shower suits, the best cuisines, and a spa.
How to go there
As a Finnair Business Flex member, you have free access to this lounge.
6. Swiss Air Lounges Zurich (First-Class-Lounge-A)
At this lounge, they serve a special traditional cuisine – the Raclette and Fondue. To lighten up the occasion, it's been served on the terrace with magnificent views. It has shower suites, a vast press selection, and a conference room to run your business as you wait for the flight.
How to go there
Both SWISS first-class travelers and those from Lufthansa have direct access.
7. British Airways Concorde Room
The lounge is elegantly designed to impress. Also, it offers an intensive luxurious feel through classic furniture with tailored herringbone and velvets. Features include a spa, TV room, library, working area, and others.
How to go there With a first-class ticket from British Airways, you have exclusive access to the Concorde room
8. Faro Airport Business Lounge
It's very spacious with enough room for everyone with access. Also, there're complimentary drinks if you need refreshments. And it's a perfect spot to stay away from the chaos, especially during the holiday season.
How to go there
You can either pre-book or pay a €25 access fee that lasts for 2-hours
9. Ibiza Airport Lounge
If you're on a Bleisure trip, then you will the ambiance at Ibiza Airport Lounge. It has a party theme that sets the right mood for interactions. There's even a dance floor for those willing to try a few moves. Further, it's best for both holiday and business trips.
How to go there
There's no direct access, therefore, you'll need to book access at a small fee.
10. First Class Lounges Iberia, Madrid
Iberia Lounges has two VIP sections, which are all at the disposal of business-class travelers. Being a Spanish lounge, its design portrays their famously known character of being passionate. From the choice of furniture to layout and interior décor, everything is just spectacular. As a business person, there're private workstations where you can work on your projects. When it comes to dining experiences, there's a vast options to choose from.
How to go there
If you're from first-class, you've got direct access to Iberia VIP lounges. Also, Oneworld Sapphire and Emerald members have exclusive access. Others first-class travelers allowed include American Airlines, Qatar Airways, Royal Jordanian, and British Airways.
Final Take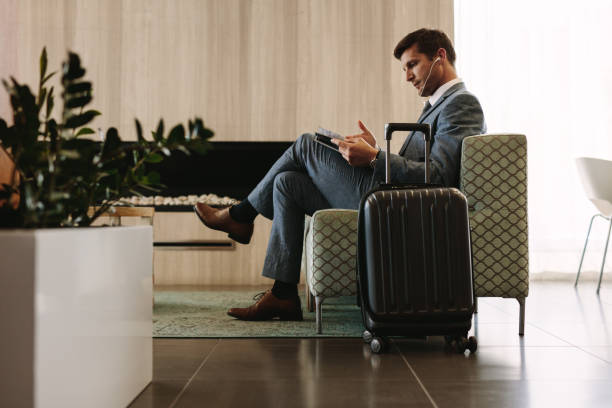 Finally, visiting any of the above lounges will provide you with an extraordinary luxury experience. Since most of them rank among the best lounges in the world as well, expect prime services. For those with no time choosing the best lounge during business trips, consider the services of a corporate travel agency.
Figame.com for instance will link you to some of the best airlines in Europe with exclusive access to these lounges, among others. Also, through corporate travel management services, you'll have no setbacks to deal with during your business trips.
Ask figame.com for more info!
We're here next to you 24/7.